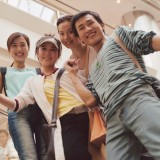 It's not always easy to engage with young people and encourage discussion. Here are 10 simple points to help your small group discussions.


1. A POSITIVE ENVIRONMENT
Try to provide a comfortable and casual atmosphere. Is there adequate and comfortable seating? Is the room warm – but not too warm zzzzzzz! Are there any distractions? Are you building in the right amount of social time and using it effectively to make connections and build relationships?

2. BREAK THE ICE
One of the best icebreakers I know is food! Providing and sharing snacks before your study time is a simple and natural way to break the ice with young people. Or, what about a meal or a barbeque?
Simple icebreakers and games can also get things moving and encourage interaction. They can help provide positive momentum for small group study and discussion by,
Helping new members to integrate into a group.

 Helping young people feel comfortable together.

 Encouraging cooperation.

Encouraging listening to others.

Creating a good atmosphere for learning and participation.

Use icebreakers which encourage everyone in the group to talk or share non-threatening information about themselves. Download the free eBook '40 Icebreakers for Small Groups' for lots of simple game ideas.

3. IT'S OK TO TALK
Perhaps an obvious point, but clearly explain that your study time is meant to be a discussion. Some young people need 'permission' to talk! Encourage every group member to participate.
Continue reading "10 ways to encourage discussion in your small group" »