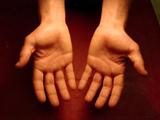 Watch the TV news, read a newspaper, look at the world. What comes to mind when you think of leadership and leaders? I guess ambition, power and control could be regarded as some of the clearest expressions of leadership today.

However, Christ's demonstration of servant leadership is in sharp contrast to the world. Jesus himself set the example for us, 'For even the Son of Man came not to be served but to serve others and to give his life as a ransom for many.'

His model of the leader as a servant reveals an example of leadership that embraces deep humility, disregards personal gain and ambition, and puts the needs of others first.
'You know that the rulers in this world lord it over their people, and officials flaunt their authority over those under them. But among you it will be different. Whoever wants to be a leader among you must be your servant, and whoever wants to be first among you must be the slave of everyone else. For even the Son of Man came not to be served but to serve others and to give his life as a ransom for many.' Mark 10:42-45
Jesus was speaking to his disciples and he knew very well their tendency to want glory for themselves and to fight for position. James and John had just demonstrated that. Jesus was very clear. He could not afford them to miss the heart of His Kingdom: serving one another in love.
Servant leadership is not about title, position or power. It's about attitude. True leaders devote themselves to service that focuses on the needs, personal growth, and well-being of others. John Maxwell in his book 'The 21 Irrefutable Laws of Leadership' sums up leadership as 'leadership is influence - nothing more, nothing less'. Our influence as youth leaders is not to do with our title but with the life we live.

Second only to the cross, washing the disciple's feet is perhaps one of the greatest examples of Christ's servant heart and love (John 13:3-5). Only hours before his cruxifixion, this act sealed the meaning of servant leadership in the disciples' minds. It was a life-changing example for them. Washing the feet of guests was a task for the lowliest household slave, yet this is the leadership model Christ gave to the church.

The Apostle Paul reminds the Philippian church of Christ's character and his willingness to be a servant on behalf of all mankind when he says,
'You must have the same attitude that Christ Jesus had. Though he was God, he did not think of equality with God as something to cling to. Instead, he gave up his divine privileges; he took the humble position of a slave and was born as a human being.' Philippians 2: 5-7
Ten times Paul calls himself a servant of Christ (Rom. 1:1; 1 Cor. 3:5; 4:1; 9:19; 2 Cor. 4:5; 6:4; 11:23; Gal. 1:10; Phil. 1:1; Tit. 1:1) and Jesus' teaching about servant leadership is clearly modelled among the first Christians. The Book of Acts reveals a church where leaders demonstrate deep humility, a life of sacrificial service to others and a willingness to suffer hardship for the sake of Christ.

From the beginning of His ministry until His death, servant leadership characterized the life of Jesus. We need this message today. I need this message today.

It's too easy just to define Christian youth work or ministry as a programme. Clearly, programmes play a part, but youth ministry is basically about people – young people. It's about serving those who are discouraged, confused, frustrated, lonely, unloved, hurting, alienated, lost, addicted, purposeless, and in desperate need of caring leaders who will invest time in them. Will you pick up your towel?

I suspect that after all our events are over, our sermons and Bible studies are exhausted, one thing will remain embedded in the hearts of our young people. A caring leader, who was willing to be a servant to them, helping them understand and experience more of the love of Christ and grow in faith. Who can you serve today?
SUBSCRIBE FOR FREE

Every month I add more youth ministry ideas, resources and personal reflections on youth ministry and leadership. May I encourage you to subscribe to INSIGHT and you won't miss a thing.