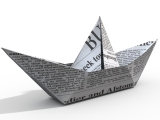 The amazing Newspaper Night is great for younger teenagers. Encourage your group to invite their friends to a suitable venue for a night to remember. Make sure you have a large supply of old newspapers collected in the preceding weeks.

Read through the games carefully before you use them. Many are based on common party games and adapted through generations of youth leaders. It's probably impossible to say who first thought up any of these games, but whoever you are, thanks!

Although most of the games feature friendly competition, please don't emphasise 'winners' or 'losers', emphasis the fun! Award a small prize for each game, as many of the young people could gain several during the course of the evening. The 10 games that follow are some of my favourite newspaper games and have worked with many different groups.
Continue reading "Newspaper night - a themed youth night!" »