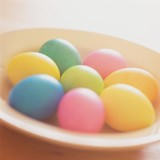 An egg themed evening for Easter. The first five eggy icebreakers of Egg strength, Egg and spoon, Egg drop, Egg blast and Egg throw can make for a messy evening. Select your venue carefully.

Alternatively, focus on one or both of the evening projects. The team challenge of 'The Great Egg Drop' or the creative design of 'The Egg Fashion Parade.'

The Easter Run-Around quiz will discover how much your young people know about the Easter story and lead towards an opportunity to close the evening with an Easter message or reflection.

Use and adapt the ideas and options given, or prepare your own teaching material. View and download the 14 page pdf Easter Eggstravaganza
SUBSCRIBE

Would you like more ideas? Discussion starters, themed youth evenings or thought provoking articles on youth ministry? May I encourage you to subscribe to INSIGHT and you won't miss a thing.