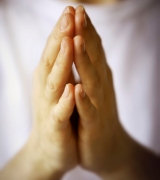 Although 'People of Prayer' is part of my series on themed youth evenings, there are no icebreakers or games. 'People of Prayer' is a creative evening for your group to pray for each other, their friends, your church, and for the body of Christ in your city, nation and throughout the world.

This guided evening of prayer contains a number of simple activities and visual prompts to teach and engage your young people in prayer. There are four sections to the evening - Focus on God, Focus on myself, Focus on friends and family, Focus on the wider world.

I have used this outline with many groups and it should take between 60-90 minutes. However, use your own judgment to pace the evening, as every group is different. You may also like to have the Bible passages viewable as a PowerPoint presentation and add a relevant video clip for the final section on the persecuted church. The links will take you to useful resources. Make sure you have a suitable and comfortable room for this evening of prayer.
Continue reading "People of Prayer - an evening of creative prayer for young people." »