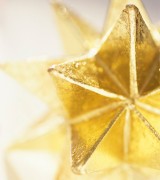 A Christmas icebreaker and youth talk reflecting on the name and titles given to Jesus.
This Christmas resource can be used as part of a youth night, youth club or Christmas presentation. It works well with 11-14's but please adapt according to the knowledge and age of your group.
How was your first name chosen? Usually it's by our parents, who choose names they like or names from within the family. Sometimes it might be from someone they admire, or a famous person or a celebrity.

Ask the young people if they know why their first name was chosen. Was it after someone older in their family? Do they know what their first name means? Give time for responses.

Explain that many of our names today have been passed down through history and often originate in other languages. In Europe many names are derived from Latin or the Greek and Hebrew languages. Most originally described something about the person who was given the name i.e. Timothy (from the Greek) which means 'one who honours God.'
NAME CHECK
 Look up the first names of your group and find their meaning. This can be done in advance, but it's more interesting and fun to do it together. Get a book of baby names from any bookseller or go online and explore the various listings on the origin of names. Here you will find lists of names and their meanings from around the world. Be aware that meanings may vary and not all names will be traceable in this way, especially 'new' or 'unusual' ones which don't have a long history. Here are a few common English examples. The root language is given in brackets.

 GIRLS
Ann (Hebrew) full of grace
Emma (German) a woman of command
Debbie (Hebrew) The bee – an industrious woman who looks for what is sweet in life
Margaret (Latin) a pearl
Rachel (Hebrew) Innocent as a lamb
Sarah (Hebrew) princess
Susan (Hebrew) graceful lily
Victoria (Latin) the victorious one
Hannah (Hebrew) grace

BOYS
 Joshua (Hebrew) God rescues
Andrew (Greek) strong and manly
David (Hebrew) the beloved one
George (Greek) the farmer
John (Hebrew) god's gracious gift
Neil (Gaelic) the champion
Paul (Latin) little
Robert (German) a man of brilliant reputation
Matthew (Hebrew) gift of god
Timothy (Greek) one who honours god
Stephen (Greek) crown or wreath
And for the record, Grahame means 'from the farm or homestead.' I'm disappointed!


REFLECTION
As we approach December 25th and we think again about the story of the first Christmas, we remember the birth a baby who was given the name Jesus. Do you know how his name chosen and does it have a special meaning? Read Luke 1:26-38 and Matthew 1:18-23

Luke and Matthew tells us that Jesus' name was not chosen by his mother or father, but was given to him directly by God and his name (Jesus) means 'God saves.' Matthew also records a mention of the title Emmanuel (Matt 1:23) which means 'God is with us.' In Lukes account, Jesus is also referred to as the 'Saviour' and the 'Christ' (Luke 2:11).

What do you think the name and titles given to Jesus tell us about him and his future? Discuss.

Jesus 'the Lord saves.' Jesus came to earth to save us because we can't ourselves escape from sin and its consequences. Jesus came to rescue us from the power and penalty of sin.

Emmanuel 'God is with us.' This title reminds us that Jesus was God in human form and literally 'with us.' Through the Holy Spirit, Jesus is present in the lives of every believer today. Do you know the presence of Jesus in your life this Christmas?


SUBSCRIBE FOR FREE

 There are more themed evenings, icebreakers and games to come, alongside thought provoking articles on youth ministry and leadership. May I encourage you to subscribe to INSIGHT and you won't miss a thing.

Extracts taken from 'A Really Great Assembly' by Grahame Knox and Chris Chesterton (Scripture Union 1992)