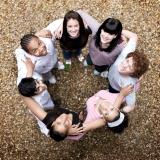 40 Icebreakers for Small Groups is a FREE ebook compiled from several previous articles posted on Insight.
These posts continue to be popular, so I thought it might be helpful to put them together in an eBook for you to download. In addition, I've added several new 'bonus' icebreakers which don't appear in the articles!

Divided into two sections, 'Getting To Know You' and 'Group Builders', these icebreakers encourage sharing, openness, listening, co-operation and discussion, providing a creative foundation for your small group study or teaching time. Just click on the link in this post or in the sidebar to view and download the eBook.
Also check out my other popular FREE ebook Creative Bible Study Methods for Youth Leaders.


SUBSCRIBE FOR FREE
If you find these resources helpful, may I invite you to subscribe to Insight. You'll be sent every article direct to your RSS feed or email inbox and you can unsubscribe at any time.