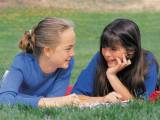 You ask a question. They stare back quizzically at you. You ask another question. Silence. You awkwardly try again. Embarrassed shuffles and whispering.

How do you get young people engaged in meaningful conversation and discussion? It's not always easy. Building relationships is important. Group size and venue is important. Asking the right questions is important. Sometimes a simple creative activity or discussion starter can help break the ice and encourage group communication.

'Consequences!', 'Getting to know you?' and 'What's puzzling you?' are three discussion starters which give an opportunity for your group to share their own thoughts, opinions and ask their own questions.

The discussion starters are flexible in their application. Discover more about what your young people really think! What's important to them? Where do they struggle with the Christian faith? Use these starters to get to know your group better and provide a launch pad for further discussion and bible teaching.

View and download the 12 page pdf 3 discussion starters for youth groups.
MORE DISCUSSION STARTERS
For more, click on discussion starters in the category list.


SUBSCRIBE FOR FREE

Each month I add more youth ministry resources and personal reflections on youth ministry and leadership. May I encourage you to subscribe to INSIGHT and you won't miss a thing.