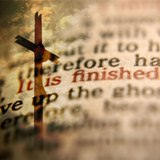 'Washed clean' involves a simple chemical reaction which provides a great object lesson for young people. It can be used as part of an Easter presentation and provide a stimulus for further group discussion.
It's important to practice this first and build your confidence in the science, to allow you to focus on the talk. I have included a simple outline talk as a basis for creating your own presentation.
For the demonstration you will need a large clean glass bowl, 1.5 litres of water, tincture of iodine, spray starch, photographic fixer, a clean white cloth, a piece of clear plastic and a table on which to conduct your science!
Tincture of iodine is readily available from most chemists. Spray starch from a supermarket. Photographic fixer is available from good photographic stores or can be purchased on-line. In the UK, Ilford rapid fixer (ammonium thiosulphate) is a good choice.
Continue reading "Washed clean - an Easter youth group discussion starter" »