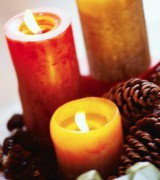 We all like to think about what we might receive at Christmas, but Christmas is also a time of giving.

We look forward to what people will give us, but our giving to others can make a big difference to their Christmas and their understanding about the birth of Jesus.
This resource can be used as part of a youth night, youth club or Christmas presentation. It works well with 11-14's but please adapt according to the knowledge and age of your group.
GIVE A GIFT
 Bring in some colour magazines or catalogues which contain lots of ideas for gift items. Divide your group into teams of 4 or 5 and give each a magazine, a large piece of paper, scissors, paste and pen. Tell them they need to make a collage of gifts they would send to the following people,

Dad

Mother

A baby

The queen, (or president, prime minister)

Your best friend

Your wonderful youth leader!

Yourself

For older groups you can also add the extra factor of working to a budget £500 ($1000).
What factors do we consider when choosing a present for a person? Discuss. Answers might include; the person you are giving it to, your own preference, how much you think of them, what price you are willing to pay.

Who did you give your most expensive present to? Why? What did you give a baby? What did you give the queen/president? How much did you spend on yourself? What do these answers show about what you think of the person you are giving the gift to?

What ways can we give to others at Christmas to help them enjoy the celebration or help them discover the true meaning of Christmas? What ideas can you think of? Giving presents, sending Christmas cards, donations to a Christmas appeal for people in need, carol singing etc


REFLECTION
How could we as a group put this into practice? Encourage discussion and creative ideas. What could they do in the wider community? Plan and follow this through with them if you can. It will change their perspective on Christmas! Visit a local hospital children's ward, give to a Christmas appeal, visit a homeless shelter, make Christmas cards for folks who will feel and be alone this Christmas. The simple activity of making cards and delivering them can make a big difference to those who receive them and the group as they think of others at Christmas.
SUBSCRIBE FOR FREE
 There are more themed evenings, icebreakers and games to come, alongside thought provoking articles on youth ministry and leadership. May I encourage you to subscribe to INSIGHT and you won't miss a thing.

Extract taken from 'Christmas Unwrapped' by Grahame Knox and Caroline Ray (1990)