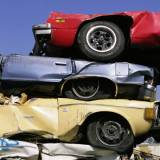 Use this humorous discussion starter to stimulate and generate questions from your young people. Find out more about what they find hard to believe or understand. What are their barriers to faith? What questions do they have about the Christian life?
These are genuine statements found on insurance claim forms, where car drivers attempted to summarise the details of an accident in the fewest possible words.
Coming home I drove into the wrong house and collided with a tree I don't have. 

I thought my window was down, but I found it was up when I put my head through it.

I collided with a stationary truck coming in the other direction.

The guy was all over the road. I had to swerve a number of times before I hit him.

I pulled away from the side of the road, glanced at my mother-in-law and headed over the embankment.

The accident happened because I had one eye on the lorry in front, one eye on the pedestrian and the other on the car behind.

In an attempt to kill a fly, I drove into a telegraph pole.
Continue reading "Would you believe it? - a youth group discussion starter" »