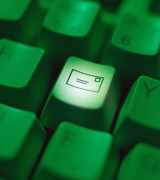 If 'Insight' is a useful resource for you, there's a BIG benefit in subscribing. You get the full article(s) sent directly to your inbox or feed reader. New content will be added every week. There are two ways to subscribe to 'Insight.' Both are provided by a free service called FeedBurner which is now part of Google.


SUBSCRIBE VIA EMAIL
Enter your email address and click on the 'subscribe' form in the right side bar. This takes you to my FeedBurner page to complete a simple subscription request. You will then receive an email with a verification message. Click on the link and your subscription to 'Insight' is activated. You can cancel your subscription at any time. Be assured, I respect your privacy and your email address will not be given to any third parties either by myself or FeedBurner.


SUBSCRIBE BY RSS FEED
In the right side bar is a link 'subscribe in a reader.' At the end of each article is the link 'subscribe to this feed.' I'm new to RRS feeds myself so I thought some explanation might be helpful for other newcomers.

What is RSS?
RSS (Really Simple Syndication) feeds are becoming very popular because it makes keeping up to date with the web sites and blogs you like really quick and easy. Subscribing to an RSS feed is free. You already know the web pages you like to visit. You probably have them marked as 'Favourites' in your browser. However, you can't tell when they've been updated without visiting each one and checking yourself.
That's where an RSS feed comes in. You subscribe using the link and the new content from your selected web sites comes to you. Sometimes this is just a summary, so that you can see if you want to click through and visit the full version on the website. However, the 'Insight' RSS feed sends you the full text of each new article.
RSS has some advantages over email. You don't have to provide an email address when subscribing to an RSS feed, and unsubscribing is just a matter of deleting that feed from your feed reader.

What's a feed reader?
You might already be using a form of feed reader, and not realize it. With personal home pages like My Yahoo or My MSN, you've got RSS capabilities built in. That's how content like news and weather appears on your home page. You can also receive new content from any blog or web site that uses RSS to provide updates. If you use the excellent free Firefox browser, you can also receive RSS feeds from your tool bar via the Live Bookmarks function.
There are also free web-based services that let you read and manage RSS feeds online using your web browser. I use Bloglines which I'd certainly recommend. Another popular service is Google Reader.

How do I subscribe to the 'Insight' RSS feed?
'Insight' uses FeedBurner to submit your subscription. Click on the link. This takes you to my FeedBurner page. All the major online feed services and programmes are listed. Click on your chosen feed reader, log in and add 'Insight' to your feeds. You can even change your mind and subscribe by email from this page!


EMAIL AN ARTICLE TO A FRIEND
At the end of each article is a link 'email this.' Click here to send the article link to a friend. When they receive and click the link in your email, they can read the full article for themselves. (This is an additional service provided via my FeedBurner account)